---
Regular price
Sale price
$19.90 AUD
Unit price
per
Sale
Sold out
Buy once - all you need is more flour to continue to make amazing bread!

Active starter guarantee or we'll replace it free

Great for both new and experienced home bakers

Has everything you need to bake delicious artisan sourdough bread from scratch

Bake your first loaf in as little as 3 days (no waiting weeks for an active starter!)

Quality Australian ingredients (supporting Australian farmers)

$10 flat rate shipping Australia wide, or free over $150

Thousands of happy home baking customers
Share
Expand your baking horizons with our Light Rye Flour, a wonderful addition to our collection of high-quality flours. Proudly milled by Allied Pinnacle, this light rye flour is sure to become an essential ingredient in your baking repertoire.
Brought to you by Allied Pinnacle, a trusted name in the industry, ensuring top-notch quality and reliability.
Perfect for baking an array of artisan-style bakery products, from classic rye sourdough bread to delectable pastries like croissants.
Versatile flour that lends itself beautifully to pasta, noodles, and frozen dough, giving you endless creative possibilities.
Crafted from the finest rye grains, creating a light rye flour with a balanced texture and a subtle, yet distinctive, rye flavour.
Ideal for those seeking variety in their baking creations, adding depth and complexity to your recipes.
Offers consistent quality, meeting the high standards set by Allied Pinnacle for all their products.
No artificial colourings or bleaching required, as the natural light rye colour shines through beautifully in your baked goods.
Elevates the flavour profile of your creations with a hint of rye, adding a touch of artisan charm to every bite.
To explore the unique characteristics of our Light Rye Flour, we recommend starting with a 25% inclusion in your recipes, with the remainder being our white bread flour. This initial proportion allows you to gauge how the light rye flour impacts the texture, flavour, and rise of your baked goods. As you gain experience and become familiar with the results you desire, feel free to adjust the percentage of light rye flour to achieve the perfect balance in your baked goods.
View full details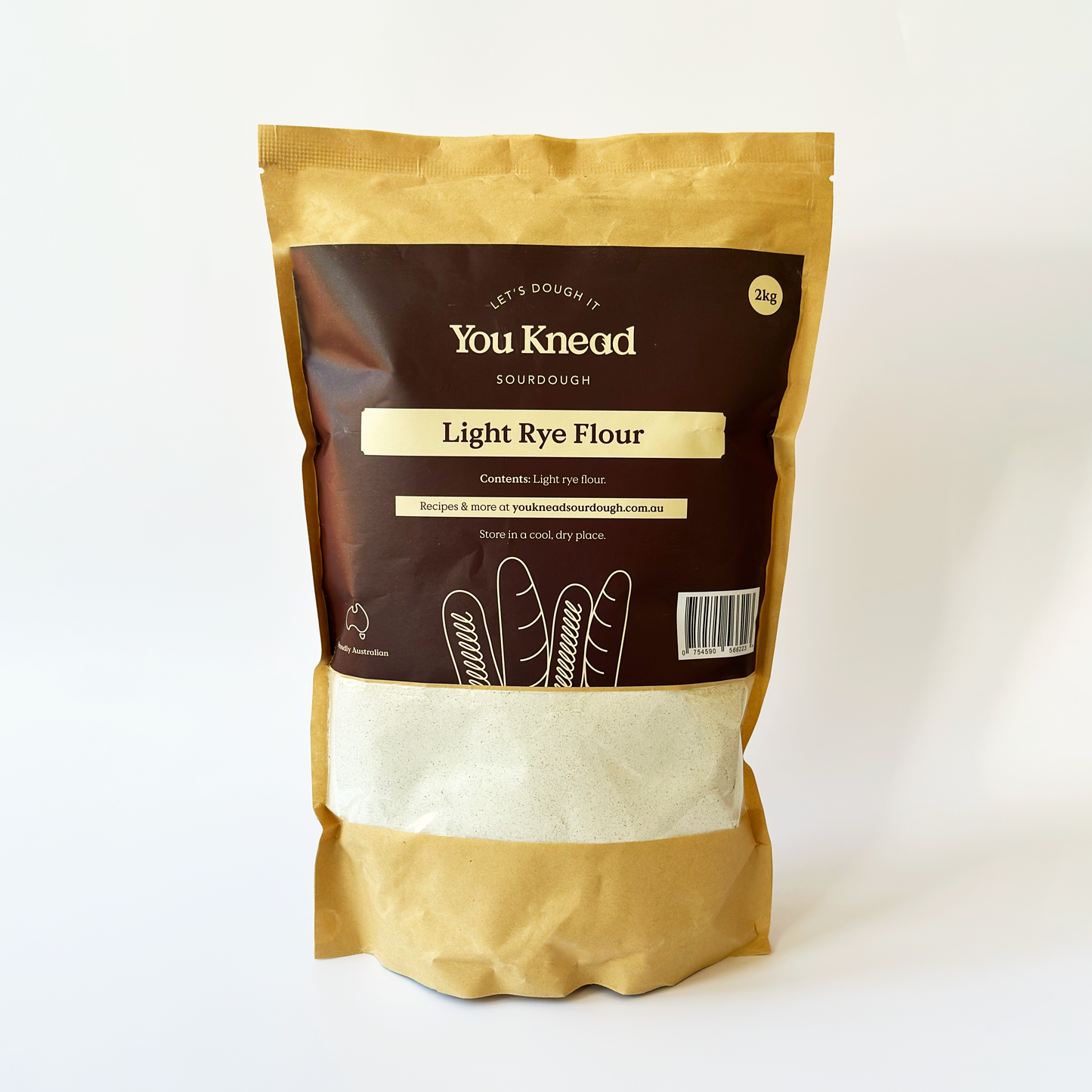 Best Bread Ever
I have recently purchased the starter kit from YouKneadSourdough and I am loving it! I love the process of making the bread and my kids say it's the best bread ever and prefer it to the local bakery sourdough (which is amazing too!) So happy with this purchase! Highly recommend!!
Rye flour
Goods arrived in good condition and within time frame quoted
Addicted
I happen to stumble on this small business and I'm glad I did. I bought the starter kit and haven't looked back. My whole family have learnt to make sourdough and every Sunday someone is in the kitchen baking. I have also stopped buying store bought flour and will only buy from You Knead as it tastes different and fresh. Well done to you 😁